Open House - The Real Estate & Mortgage Show: January 7th, 2023
Date Posted: January 9, 2023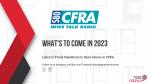 The experts anticipated 5,000 new jobs in December, and we ended up with 104,000 new jobs. This may be because the retail industry is very busy around the holidays, and everybody needs extra help. However, we're more curious to see how those numbers play out in the first three months of 2023.
When looking at average house sale prices in December were down 1.2% and our number of sales were down 30%. Year to date our number of sales were down 25%. December of 2021, we had 20,289 sales and in 2022 we had 15,288 showing that we are down a lot compared to last year.
Although it's tough to compare to previous years with the surges in numbers from COVID, it is still useful to gauge where we currently are at compared to other years.
As we hope that interest rates slowly creep down over 2023, so do the first-time homebuyers who have been patiently sitting on the fence, waiting for that time. Experts are predicting that the spring 2023 housing market will sprout some roots and begin to grow again, and we will start to see some of those sitting on the fence make the first leap into the market.
To listen to the full episode, click here.
Contact your Mortgage Broker today for trusted advice.